Vintage Apple Whimseys by Lita Gates Handcrafted Santa Claus St Nick Figure 1978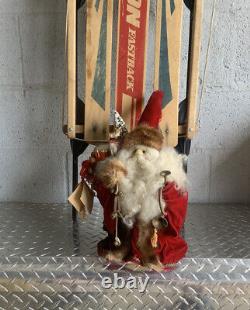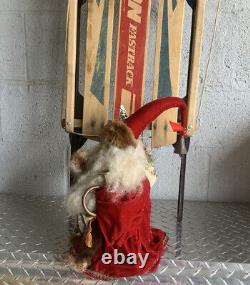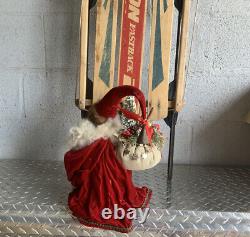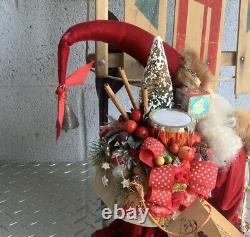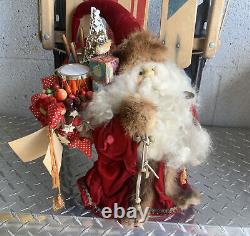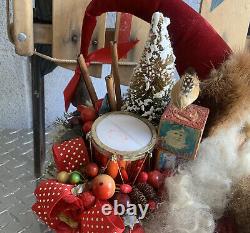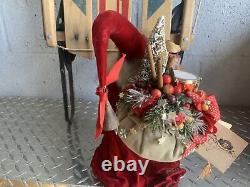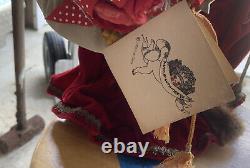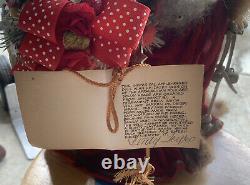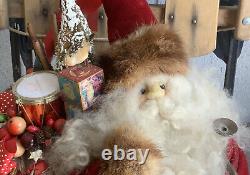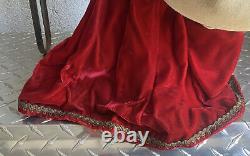 Vintage Apple Whimseys by Lita Gates Handcrafted Santa Claus St Nick Figure 1978. See picture 10 inside of brochure for signature. This figure is in great condition - see photos. Item shown is the one you will receive.
This is honestly the coolest Santa figure I have ever seen. Nature themed with a real leather sack and thongs holding jingle bells.
The head is constructed from a molded resin in the shape of vintage folk art carved apple dolls with the clothing constructed from felt and embroidered bands. He has a sweetgum seed pod on the tip of his had and is holding a bag of toys and decorations as well as a bird in her nest and pine boughs. His robe is a gorgeous heathered red made of felted wool. Was a company of seven women artisans who designed, assembled, decorated and produced collectible plush animals costumed as historical characters and seasonal personalities. To aid in this process, they employed a seamstress as well. The ladies at Apple Whimseys, Inc. Their designs were clever, creative and usually very ornate, using some of the finest materials available. The dolls were exquisitely made from a fairly elaborate process. A wire frame formed the body of the doll and the wire legs were inserted into molds containing wet plaster of Paris, which when dry, comprised the feet and calves of the form. This "skeleton" was then allowed to dry and was wrapped in batting, padded and sculpted to form the body. The head and paws were then added and the doll was dressed in fine fabrics, furs, feathers and other appropriate materials to replicate the character they wished to create, be it Santa Claus or George Washington.
Most of their designs were bears and bunnies, but they also made other animals including raccoons, hedgehogs, bulls and many others. To receive these discounts, you must use the cart and pay for all items together.