The Nightmare Before Christmas Santa Claus Diamond Select Elfs Figure 13 PC LOT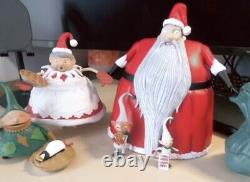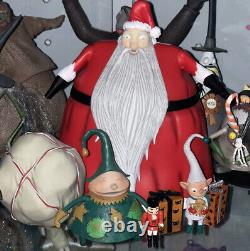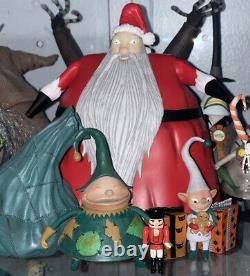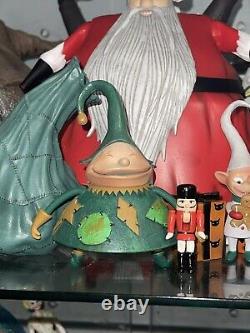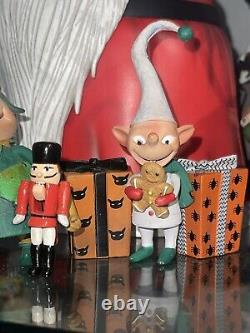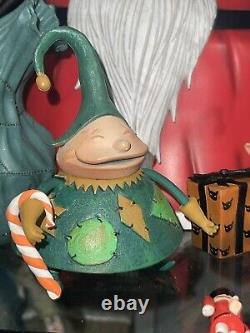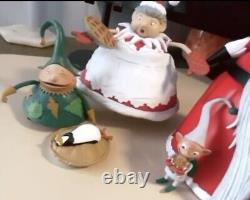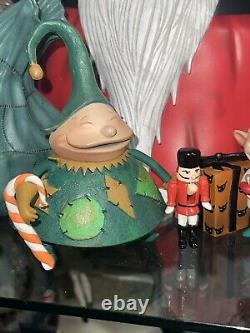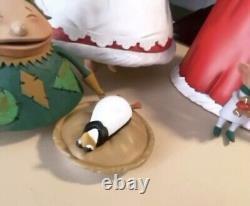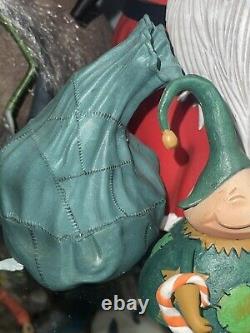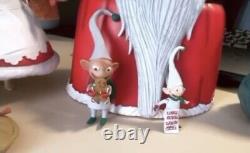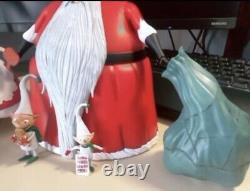 BEST CHRISTMAS NIGHTMARE BEFORE CHRISTMAS LOT EVER! This lot includes a modge podge group of NECA, Diamond Select. Jun Planning, unrelated items that fit well and even a handmade candy cane! Everything Christmas themed you see in the photos is included and is as follows. 2 presents from Jun Planning and NECA licensed Disney. 3 elf's, two are NECA from different box sets. That's the larger green one. The smallest choir elf holding the sheet music is from Diamond select series 10 Mrs.
And The third smaller one comes with the NECA Santa Jack set and so does our next piece. This may seem like a mundane small piece but it's actually one of the rarest pieces for collectors to get their hands on.
I've been offered 45 dollars just for this one piece before. It came with the NECA SANTA JACK and as goes with small pieces many were lost over time. So loads of collectors have the entire piece with all of the accessories but not this one little toy soldier man. But I think this fits in perfectly with this jolly set. The ginger bread man that the little elf is holding is just a cast resin hard miniature ginger bread man I found at a hobby store. It is not a Disney or NMBC item. But it fits perfectly in the elf's hand and even goes right into his opened mouth as if he's taking a bite! It's like it was made for that figure so I had to include that! The dark green/grey bag is also from a NECA piece I believe but I could be wrong. It could be from the Jun Planning Series 1 Action Figure set but I'm uncertain right now. But it's definitely Neca, DS, or Jun Planning.
The orange and white candy cane is handmade with polymer clay. I made it myself along with other colors like back and orange, white and orange and regular white and red ones as well. I made them to scale as bet as possible. If you would like to see photos of those I will happily send them to you.
I'll include one of each color in this listing if you request it. I have plenty but if you only want the one shown in the photos that's fine as well.
I just thought this was a nice way to add some creepy Christmas vibes to the collection. I made the orange swirly candy cane match Barrels iconic lollipop. Finally SANDY CLAWS and his babe?? This Santa is like the rest of these items. Opened I should say for the most part. Each has just sat in my collection untouched.
I'm a smoke free pet free home. Includes original hat from the original box set. The only defect is the missing hand.
I actually found that the hands of my other Diamond select pieces like Sally fit perfectly into his hand. I may use one of the extras that I have and paint it back to include with this. If I do I will update this listing to let you know. But when I put just the unpainted hand into the hole where his hand went it fit perfectly and luckily Sandy Claws has small hands so you literally can't tell the difference. I'm sure they use the same or similar molds for lots of their interchangeable hands.
Diamond Select series 10 Mrs clause come with this as well. Just opened today (October 1st) truly.
She comes with a pie, a cushion with a penguin on it, and the smallest choir elf i previously mentioned. The elf comes with a small bit of sheet music for him to read from. So as you can see this Lot is quite literally one of a kind and it's EVERYTHING you need to get ALL of the background characters, accessories, and two very charming lead characters in the Mr and Mrs Clause. AGAIN Santa is missing his right hand.
The ONLY issue with this entire lot!