RARE Antique SANTA CLAUS Miniature Oil Lamp, S1-VII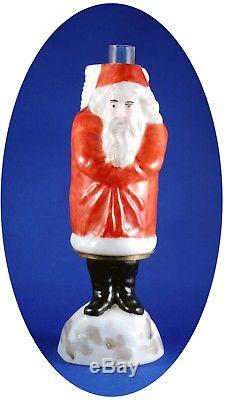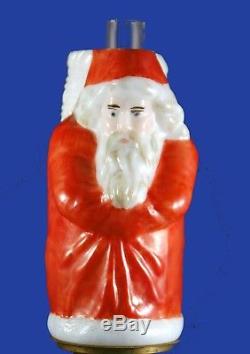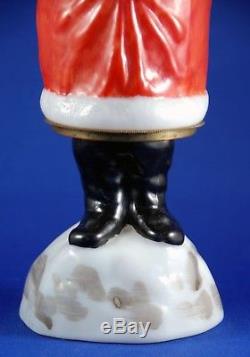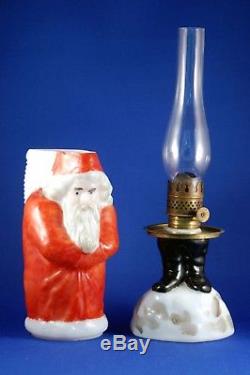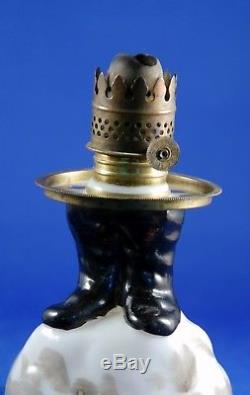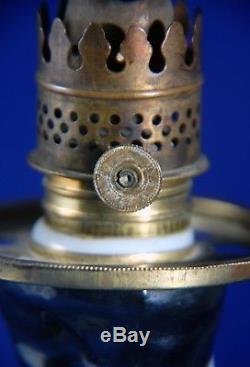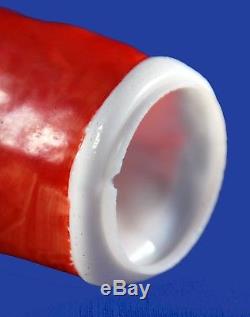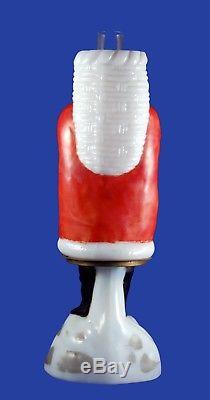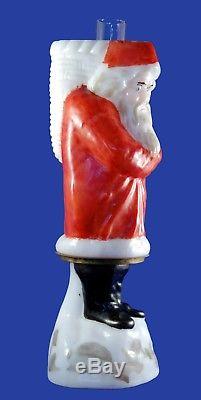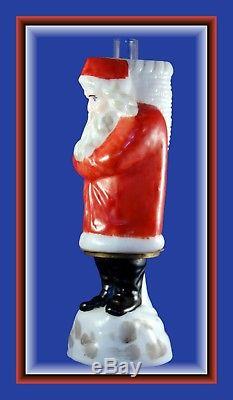 RARE Antique SANTA CLAUS Night Lamp by Fostoria and Consolidated, S1-VII. Santa Claus Night Lamp, S1-VII. About 9 5/8 tall overall. About 9 1/8 tall to top of shade.
About 3 1/2 wide at widest point. Antique SANTA CLAUS Miniature Oil Lamp. Manufactured first by Fostoria Shade & Lamp, Ca. Small chip in shade fitter (hidden by shade ring). An iconic, and hard-to-find, antique miniature oil lamp.
One of the most well-known, highly desired, and yet very hard to find miniature oil or night lamps of the Victorian era, the Santa Claus is pictured in Figure VII (in the colored plates between pages 48 and 49) of Frank & Ruth Smith's book "Miniature Lamps". According to Ann McDonald (in the July 1, 1998 edition of Antique Trader magazine) this lamp was first manufactured by the Fostoria Shade and Lamp Co. Of Fostoria, Ohio under the direction of Nicolas Kopp, Jr.
And was introduced in a May 25, 1892 article in the Crockery & Glass Journal (Melvin Murray in his book "Fostoria Glass, Ohio II"). In 1893, a new company, Consolidated Lamp & Glass was formed by most of the shareholders of Fostoria Shade & Lamp and this new company acquired the Fostoria Shade & Lamp Co. Along with its facilities, employees and its accomplished manager Nicolas Kopp, Jr.
Consolidated continued to make most of the products of Fostoria, including the Santa Claus lamp, along with many new products of its own. A more complete history of Fostoria Shade & Lamp and of Consolidated can be found in the aforementioned book by Mr.
Murray; copies of all of the old Antique Trader magazine articles, now out of print, can be found on the website of the Night Light Club (nightlightclub. Org) and are available to club members. An old Consolidated ad for the Santa Claus lamp, reproduced in Melvin Murray's book is shown to the right. When this lamp is found (which is not very frequently) it is usually found with Santa having a red coat. There are two other versions of this lamp very occassionally found; one of these Santas has a mostly yellow coat and on the other he has what is sometimes describes as a (mostly) black coat and sometimes described as a (mostly) gun-metal gray coat.
In both of these variations, the bottom of Santa's coat and his hat are red. These variations are shown in Figure XXXI and Figure 349 of Ruth Smith's book "Miniature Lamps II". Both of those lamps are described by Smith as having an indentation on the bottom of the base (while the red-coated Santa has a flat bottomed base). McDonald (in the Antique Trader article) speculates that the yellow and the black/gun-metal gray Santas may have been made by a company other than Fostoria/Consolidated.
The lamp itself is unusually constructed. Santa's pack, head and body are formed by the shade; his legs and feet and the "rock"-like base on which he stands are formed by the base of the lamp with the shade ring and burner being attached to the base. With the shade missing, the lamp looks blatantly incomplete and almost comical. Only three other lamps of which we are aware share this unusual construction (where the head is the shade and the base the body)--the Elf, the Skeleton and the Indian. All of those three lamps are foreign in origin.
Thus we believe that the Santa is the only U. Made Victorian night lamp made this way. Condition of this lamp: This lamp has but one discernible defect--a small (about 1/8) notch on the bottom of the shade fitter (see the eighth photo); this chip is fortuitously placed so that it not at all visible when the shade is in position on the old original (and somewhat larger than typical) shade ring. The old brass hardware on this lamp has not been cleaned or polished. It consists of the aforementioned shade ring, a double ridged collar and a patent-dated Nutmeg burner.
The burner's thumb wheel is embossed "PAT FEBY 22 1877"; that's the date of a patent issued to Lewis J. Atwood--of Plume & Atwood, manufacturers of the burner. The patent is for the manner in which the burner is constructed; the wick dome and burner gallery are made as an integrated unit and are easily removable for cleaning and/or wick trimming. This patent is reproduced in the appendix to Frank & Ruth Smith's book Miniature Lamps.
The burner ratchet is not engaging the old wick that is in this lamp, most likely because is old. All of the hardware is in fine condition. The lamp comes with a clear glass chimney (with rough cut edges) which is also in fine condition. As stated above this is an iconic and well-known lamp among miniature lamp collectors. It is highly desired and many collectors we know who don't have a Santa Claus in their collections profess to wanting one.
Offered here in time for the Christmas season, this 126 year old Santa Claus recalls the atmosphere of what one imagines to have been a Victorian Christmas. We can almost smell the scent of a fresh-cut tree and imagine the aroma of cookies right out of the oven. About the Use of Words Like "Scarce" and "Rare". We realize that some eBayers, not having or knowing of a better way of assessing an item's scarcity, use these terms quite subjectively and frequently based on their own personal experience. They simply don't know whether an item is common, scarce or rare.
We take two steps to describe the scarcity of a lamp. First, we only use the words "Scarce", "Rare", "Very Rare", "Very Very Rare" and "Extremely Rare" if the item in question is judged to be so by an acknowledged outside and independent source.
For miniature lamps, we use the ratings in Marjorie Hulsebus 2006 edition of the "Price Guide for Miniature Lamps". Marjorie's ratings are also somewhat subjective (they are based on the collective view of a panel of 12 experienced miniature lamps collectors--we were members of that panel). But were at least arrived at independently of the sale or offering of any particular lamp. We keep all of this data in an online database and make the database available free of charge to members of the Night Light Club and to others who have requested access. The contents of this listing are protected by U.
The use of substantial portions of this listing verbatim or with only inconsequential changes without the express written consent of the authors is prohibited. Our objective is to have happy, satisfied customers. We will work with you to satisfactorily resolve any problems. We try to answer all questions promptly.
We do our best to describe all items accurately. However, mistakes and oversights can occur. Please also note that the receiving country's Custom Service may cause delays in item's arrival. Interested in learning more about miniature lamps? Want to meet other miniature lamp collectors?
Please check out our other listings. The item "RARE Antique SANTA CLAUS Miniature Oil Lamp, S1-VII" is in sale since Monday, November 5, 2018.
This item is in the category "Collectibles\Lamps, Lighting\Lamps\ Non-Electric\Miniature". The seller is "kayschwartz" and is located in Stockton, New Jersey. This item can be shipped worldwide.
Featured Refinements: Antique Miniature Oil Lamp