Animated Santa's Best Christmas Figure / Santa Claus / Vintage 1993 / Thailand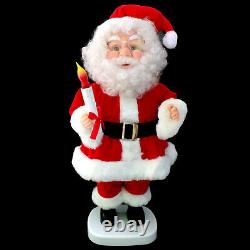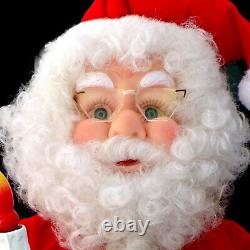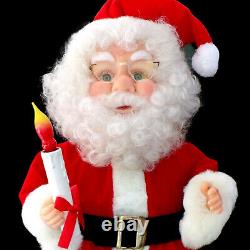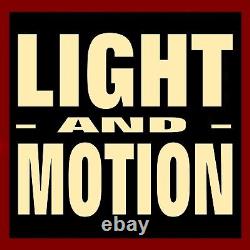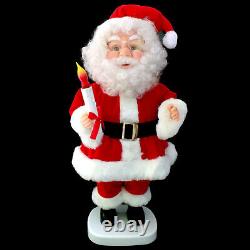 VINTAGE SANTA'S BEST ANIMATED CHRISTMAS FIGURE ________________________. SANTA CLAUS FIGURE FEATURING LIGHT & MOTION. VINTAGE 1993 MADE in THAILAND. A PHYSICAL STREET ADDRESS IS REQUIRED. ACTUAL PHOTOGRAPH OF THE ITEM YOU WILL RECEIVE.
TESTED AND FOUND TO BE FULLY OPERATIONAL. THERE ARE SCUFF MARKS ON THE PLASTIC BASE WHICH IS COMMON WITH THESE FIGURES. ARMS AND HEAD ARE ANIMATED AND MOVE AS DESIGNED. THIS IS A VINTAGE/USED ITEM. THAT HAS BEEN PREVIOUSLY OWNED/USED.
THAT SCUFF MARKS - DUST - LOSE THREADS - OVER GLUING AND/OR OTHER IMPERFECTIONS ARE NORMAL. AND CONSISTENT WITH SUCH AN ITEM. PAINT SCUFFS & INCONSISTENCY'S ARE CHARACTERISTICS OF SUCH FIGURES. AND ARE NOT TO BE CONSIDERED DEFECTS.
JUST UNDER 24 +/- INCHES HIGH OVER-ALL. FROM BOTTOM OF BASE TO TOP OF HEAD / NOT INCLUDING HAT. THE ACTUAL OVER-ALL HEIGHT WILL DEPEND ON HOW. YOU DECIDE TO DISPLAY YOUR FIGURE.
HEAD - MOVES RIGHT TO LEFT. LEFT ARM WITH LIGHTED CANDLE - IN AND OUT MOTION.
RIGHT ARM - UP AND DOWN MOTION. ARMS MAYBE POSED WITH EXTREME CAUTION.
YOU MUST FIRMLY HOLD FIGURE AT THE SHOULDER - THEN GENTLY ADJUST THE ARM/HAND. SHOULD YOU NOT DO THIS.
THE ARM WILL BECOME UNLOCKED FROM THE MOTOR INSIDE THE DOLL. THE CANDLE LIGHTS UP AND INCLUDES A FLAME COLORED BULB. THERE IS NO MUSIC FEATURE ON THIS FIGURE. PLEASE KEEP IN MIND THAT THESE ARE VINTAGE ANIMATED FIGURES. THERE WILL BE SLIGHT MOTOR NOISE AND JERKY MOVEMENT. WHICH IS TRADITIONAL WITH THESE FIGURES.